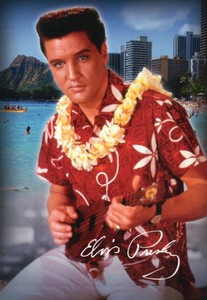 HAWAIIAN SHIRT SUNDAY
We never have a dress code at church but on July 29 we strongly suggest you wear a Hawaiian shirt to celebrate summer!  Ask a friend if you don't have one.  Grandpas always have one in the closet!  We will have ice cream sundaes after the service to add to the fun!
UNITY FEST—DAY ZERO

On August 8 the gates at Heritage Landing will open for the start of Unity Fest!  Show up at 5:00PM or earlier if you want to save a place for the group.  Bring money for food but entry is free!  All of Celebration and your friends are invited to enjoy David Crowder, speaker David Palau, and other musical guests.  The night will end around 10:30PM.  This is one of the coolest times you will have all year!  Don't miss it!
FINISHING WELL
The new Children's Area is almost done!  Take a tour to see what it will look like: Tiki Hut sign in, coffee bar in the Fireside Room, and cabinets in the Oasis and Children's Nursery!  We are only $6500 short of completing the project!  Please send in your pledges or prayerfully consider financially supporting the project as we seek to finish well.
UPCOMING EVENTS:
July 20, Play to Learn Class, 10:00AM in the Fireside Room
July 23, Couples Small Group Bible Study, 6:30PM in the Fireside Room
July 24, Pray for Muskegon
July 25, Baby Basics, 10:AM in Fireside Room
July 25, Women's Bible Study, 10:30AM in Fireside Room.
July 29, Hawaiian Shirt Sunday
Aug 8, Unity Fest- Day Zero
Aug 26, Summer Ending Hot Dog Roast
PRAYERS
Praise God for Kennedy Bergman getting baptized this past Sunday!  May God bless you as you continue to follow him!
Praise God for a good recovery for Roger Doctor (Brenda) from double knee replacement.
Pray for Ray, a Lakeside Community friend, who is losing his fight with cancer.
Pray for Jackie Knight's dad who was hospitalized this week with colon and stomach cancer.
Pray for those looking for affordable housing in Muskegon.
Pray for Teresa, Jeff K's wife, who is dealing with the side affects of being weaned off her medication.
Pray for those feeling left out and isolated.
Praise God for continued improvement in her battle with Hodgkins Lymphoma.
Pray for Jim Espinoza's daughter who is having trouble with her intestines.  She is down to 84 pounds!
Pray for a quick recovery for Tom Fredrickson who had nose surgery last week.
Pray for Maria Ramirez' sister Delores and brother Rudy who are having health issues.
"Pray for my grandkids that they may stay on the right path with the Lord."
Pray for those who have had surgeries or injuries lately and need healing.
Pray for Lilia and safe travels to Ukraine.
Pray for Sandy Ring and her back issues.
Pray for Dan, Reyes Hinajosa's co-worker who badly hurt his back.
Pray for those with unpublicized medical issues.
Pray for those looking for employment.
Pray for those who battle loneliness and depression.
World Missions Prayers: PRAY FOR LUXEMBOURG
Pray for the power of God's Spirit to triumph over materialistic ritual.
Pray for the Word to be quickly available in Lëtzebeurgesch.
Pray for healing of suspicious attitudes toward evangelicals.
Watch the Youtube video below to pray specifically for this country
http://prayercast.com/luxembourg.html